Lockdown at the Breede River
We were extremely lucky to spend the first three and a half months of lockdown 2020 in isolation in my favourite place in South Africa – Cape Infanta. Many thanks to my friend Neil (Beetle) for letting us stay in your house.
The girls learned so much about nature, tides and new bird names, exploring the plants, insects and other weird and wonderful creatures that roam the area, including springbok, bontebok and eland. It was incredible to see how the two are absolute best friends and create new little games all the time. The most special thing about lockdown was being together as a family and really getting to know and appreciate each other!
During our stay at the river I set up a small make-shift studio in the garage. I took some materials with me, but was annoyed that I didn't take more. In a way it was a good thing, as it forced me to be more innovative in my creative process, looking at a piece of wood or stone much differently than before. I also discovered some natural clay on the riverbanks and used it to make some bird sculptures. I had a lot of fun with the twins making clay oxen and unicorns fired in the fireplace – much to their delight!
The bar-throated apalis were daily visitors in the milkwood trees around the house, and it was a treat to study them up close. I am happy with the final bronze. The branch that the bird is sitting on is part of a shrubs root system I found around the house.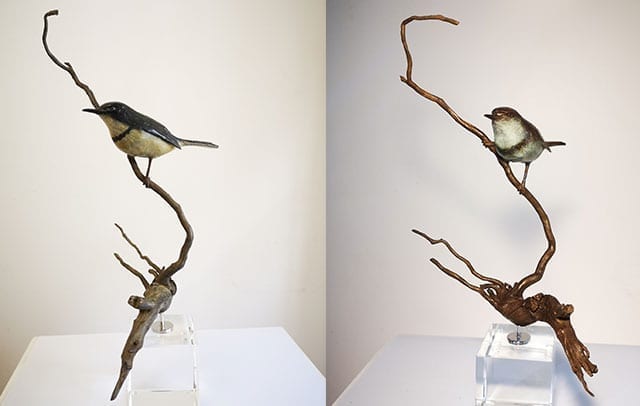 Bar-throated-apalis
Edition: 25
Size: 19 x 27 x 12cm
Fly fishing 
Initially it was pretty tough being on a beautiful river and not being able to fish. Tempting as it was, one couldn't be sure if the neighbours would call the authorities, as it was illegal to fish during the first months of lockdown. As the weeks passed by, people started popping out of hiding with their fishing gear, and finally the announcement came that we could fish again. (I must admit I did fish a bit during the hard lockdown, but in my best camo!) As it was during winter the fishing was pretty tough, but I did manage to get a couple of fish.
A couple of weeks ago, my friend Stephan Boshoff, a master cane rod builder, gave me a split-cane fly rod to test in the salt. I was a bit dubious at first, being a top-end graphite rod junky, but I must admit that in 5 days of fishing I did not rig one graphite rod. This specific rod was an 8-weight, 7-foot rod. 'Why the heck only 7 feet long?' you may ask. Well, I can tell you fishing this rod was an absolute treat! It held up to the wind, distance casting and turning a fairly large fly beautifully. I felt supremely grounded and at peace with the world, and am a serious convert at the moment. Steve's split-cane fly rods are true artistry that I can highly recommend.